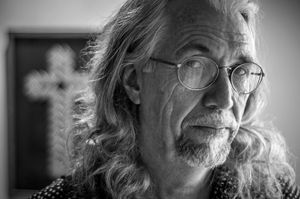 Phil moved to Los Angeles from Iowa in 1969 to play rock and roll.  His first band was Oskar, and was fronted by Lee Oskar who later formed War with Eric Burdon.  His second LA band, Crabby Appleton, had a nationwide hit in 1970 with the single "Go Back ", and recorded two critically acclaimed albums for Elektra in 1970 and 1971.
In 1979, Phil was hired by Tom Petty and The Heartbreakers as a percussionist and toured with them from 1980 through 1984.  He is credited on 16 of the 48 tracks on the Tom Petty Live Anthology collection.  During those years he also recorded with TP and the HB's in the studio, appearing on Hard Promises, Long After Dark, Live, and Wildflowers.  Phil is the drummer and percussionist on Tom Petty's "Freefallin'", "I Won't Back Down", and "Runnin' Down A Dream", which are Petty classics and his biggest hits, and played all the drums and percussion,except for one track, on Tom's most successful studio album, "Full Moon Fever", 
For the last 18 years, Phil has been playing drums with the Waddy Wachtel Band, which includes Waddy Wachtel, Brett Tuggle (Fleetwood Mac), and Bernard Fowler (The Rolling Stones) & Blondie Chaplin (Brian Wilson, The Beach Boys).  The band originally included Rick Rosas (Neil Young, Joe Walsh) who passed away in 2014. His successor is Al Ortiz (Stevie Nicks). Other band members have included Jack Tempchin, Terry Reid, Keith Allison, Jamie Savko, Robert Davis (Lauryn Hill), Ron Dziubla (Joe Bonamossa,  Melissa Etheridge)  and Stacy Michelle (Kid Rock).  The WWB played nearly every Monday for 12 years at The Joint in West Los Angeles, recently playing every month or two on a Friday or Saturday. Guests on stage with the band have included Keith Richards, Robert Plant, Joe Walsh, Neil Young, Adam Sandler, Bobby Womack, Donovan, Eric Burdon, Leo Sayer, George Thorogood, and more.
Phil, in recent years, has also played with Joe Walsh's touring band, Johnny Rivers, Jack Tempchin, Bernard Fowler, and, most recently, with Pegi Young and The Survivors, Terry Reid, Amanda Blue, Marc Ford, Jim Wilson, Jason Sinay, and Tisa Adamson, as well as doing session work for Marvin Etzioni and Willie Aron (Thee Holy Brothers), Tisa Adamson and Timothy B. Schmit of the Eagles. He also is working on recording projects as drummer, percussionist, and producer in his studio, Robust Recordings 
Just recently, Phil produced and played drums and percussion on the new Jim Wilson with Phil Jones record release "Now Playing"  A new EP "Rockers Delight" was released earlier in 2019.  Now working on a new LP. 
Phil is the owner of "Phil Jones Robust Recordings" in Los Angeles.